Make sure to update the language on your website, calls to action, and other marketing content now that Apple is using the term "follow" instead of "subscribe."
With the launch of iOS 14.5 in April, Apple Podcasts made a seemingly small shift: they changed their "subscribe" button to say "follow." But beyond just a simple change in phrase, Apple also launched a new subscription model where podcasters can place some or all of their episodes behind a paywall.
In response to this change, we recommend changing the language on your calls to action so you can eliminate any confusion about access to your show. In this article, we'll also explain some key information you need to know about the subscription service and its pros and cons for podcasters.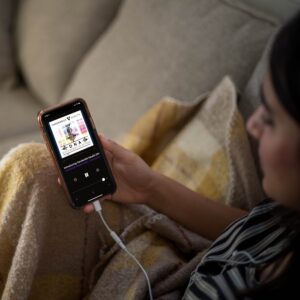 What happened to the subscribe button on Apple Podcasts?
For more than fifteen years, Apple Podcasts has used a "subscribe" button that listeners can click to automatically download and be notified of new episodes of their favorite shows. But the wording has caused confusion to new listeners, since they associate the word "subscribe" with a subscription requiring payment.
With Apple's latest update to their platform, users will "follow" free shows, and "subscribe" to paid shows under the platform's new subscription feature.
Other large podcasting platforms have already made the leap from "subscribe" to "follow." Spotify, Stitcher, and Amazon Music now also feature "follow" buttons.
Update your show and marketing to say "follow" instead of "subscribe."
Now that Apple has adjusted their language, we recommend you do so, too. Simple changes to your website and show copy can bring greater clarity to listeners who want to keep up with your content.
All it takes is switching out one word. When you ask listeners to subscribe at the beginning or end of each of your episodes, ask them to "Follow on Apple Podcasts" instead of saying, "Subscribe on Apple Podcasts."
Luckily, there's no need to worry about replacing the Apple Podcasts badge on your website and marketing materials. Since the badge reads "Listen with Apple Podcasts" and doesn't reference subscribing, the only thing you'll need to update is the wording within your own podcast and website copy.
These changes will ensure listeners know exactly how to stay updated on episodes and avoid any confusion about whether or not your content is free to listen to.
How does Apple's new paid subscription model work?
With the launch of a paid subscription model, Apple Podcasts now allows podcasters to charge for subscriptions to their shows. Other platforms like Spotify have similar models, though the services and benefits of each differ.
Whether you just want to monetize access to special episodes and exclusive content or charge a premium fee for listening to your show, Apple's subscription model allows you to choose what your content costs.
That means podcasters now have three options for how they make their shows available:
Free: your episodes are free for listeners to access.
Freemium: you offer a combination of free episodes and exclusive paid content.
Paid: your listeners pay for access to episodes.
It also opens up the opportunity for podcasters to charge fans for certain perks. Listeners can now pay to listen to an episode completely ad-free, to have early access to new episodes or even to access archived episodes of your show.
To start offering subscriptions, podcasters need to join the Apple Podcasters Program for an annual fee. As a Relationary client, we would handle the setup process for you if you decide to introduce a subscription model for your show.
Is subscriber-only content a good fit for my podcast?
Though the paid podcast program is available to all users who sign up for the Apple Podcasters Program, it may not be the best fit for every show.
The paid podcast program is mostly useful for shows with an established fan base. Once you know your podcast has a loyal set of listeners, offering perks and exclusive episodes is a great way to monetize your asset. You'll earn 70% of the subscription revenue from your first year while still keeping all the other revenue you earn from ads or sponsors.
If your show is geared toward finding new listeners and expanding your business' reach, then putting your content behind a paywall is likely not the best strategy, at least not until you have a large enough audience dedicated to your show and ample content to provide them.
Public speakers or published authors with pre-existing followers, for example, may find success offering bonus content accessible only behind the paywall. But for new and growing podcasters, doing so could result in limited exposure. It's best to consider what your ultimate goal is with your show, and how you measure reaching that successfully.
Whether you're looking to promote paid content or not, make sure your call to action on Apple Podcasts reflects the price of your episode. Remember: listeners will "follow" free content, while they "subscribe" for paid content.
For more content like this, subscribe to our newsletter, Brandcasting. Ready to build your own branded podcast? Let us help you get started with a free consultation.